Computer science first in the Perspektywy ranking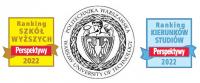 latest, 17. The Ranking of Universities prepared by the Perspektywy Educational Foundation evaluated m.in 73 fields of study in Poland. Warsaw University of Technology turned out to be the best in as many as 20 cases, including all those that are conducted at our Faculty.
"We make every effort to constantly improve the educational offer at our Faculty. Flagship faculties such as computer science, automation and robotics or electronics and telecommunications are still meeting with wide interest. Our graduates find employment most often during their studies, thanks to which the Warsaw University of Technology in the category "Graduate on the Labor Market 2022" still has the first place" - emphasizes Prof. Michał Malinowski, Dean of the Faculty of Electronics and Information Technology of the Warsaw University of Technology - "going with the times, we also focus on the most modern teaching methods, such as Project-Based Learning and open directions corresponding to tomorrow's challenges; such as cybersecurity or the Internet of Things. They are the most popular in the offer of the entire Warsaw University of Technology."
The ranking of Academic Universities, in which the Warsaw University of Technology is classified, this year includes 29 indicators grouped in 7 criteria:
Prestige Graduates on the labor market,
Scientific potential,
Innovativeness Scientific effectiveness,
Conditions of training,
Internationalisation.
The Perspektywy 2022 Ranking of Universities is in fact four rankings reflecting various missions performed by Polish universities. These are:
Ranking of Academic Universities – including 96 public and non-public universities (with the exception of art universities) that have the right to confer doctoral degrees;
Ranking of Non-Public Universities – including 43 non-public higher education institutions with qualifications for education at least at the master's level;
Ranking of Public Vocational Universities – including 19 public universities specializing in education at the practical level;
Ranking of fields of study.
The Perspektywy 2022 Ranking of Universities is one of the most extensive and transparent educational rankings in the world. It is also one of four that have the international quality certificate "IREG Approved". Its methodology is developed by the Chapter chaired by Prof. Michał Kleiber, former President of the Polish Academy of Sciences. The full results of the Ranking of Universities and the Ranking of Fields of Study Perspektywy 2022 are available at: www.ranking.perspektywy.pl